Learn about local cuisine in Tokamachi! The teachings of the local mothers
2018.07.18
Categories for:
Hello everyone, I am a support writer of HOME HOME – Ms. Fukushima!
Cooking is a joy that everyone should experience, so I would like to share with you the experience of participating in the cooking classroom organised by HOME HOME!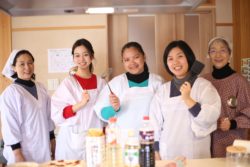 I was originally a Tokyo native, but settled in Tokamachi after moving here in 2011. Even though I have been a housewife for more than five years, I actually don't know much about cooking. I basically eat already-prepared food from the supermarket.
Although I have been thinking about learning how to cook local dishes, my mother-in-law has a job so there is hardly any chance to learn from her. The neighbouring mothers who often take care of me are very good at cooking, but they often said, "We are so used to just eyeballing it whenever it comes to adding seasoning!" and nobody taught me how to cook.
That's why when I received the notice about this cooking class, I thought, "I can't not go!" I immediately signed up.
On the registration form, there is an option to dress up in a village woman's trousers and traditional Japanese-style smock. I thought, "Of course I want to wear it!", so I ticked that option. (Note: If you want this option as well, you have to pay extra!)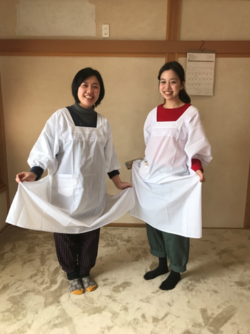 I'm the one on the left. I only look like a professional. However, after wearing the clothes, the whole experience feels more complete.
There were a total of 5 dishes to learn during this time. The dishes are subject to change depending on the season, but of course all the dishes are ones that locals often eat.
Among the ingredients, there are fresh vegetables that are grown by the local mothers who are the teachers for the day.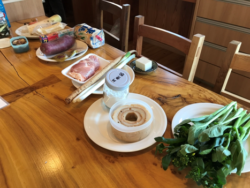 These professional housewives were very dedicated and earnest while teaching us.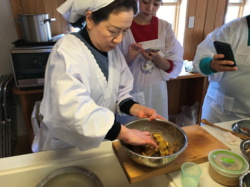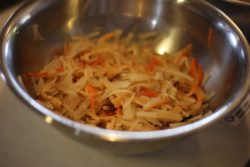 Yay! The completed dishes!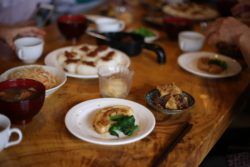 The main dish was "Kurumafu Stakes".
Kurumafu (also called "Kurumabu") is a kind of traditional wheat gluten, that we mostly see in miso soup. Seems to be a very common food in the Hokuriku area such as Niigata prefecture. I first learned about this food after moving to Tokamachi.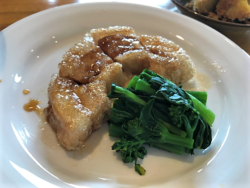 By adding a flavourful sauce, it is still very satisfying even without eating meat.
Although it looks like a ring cake, it is indeed kurumafu. On the left shows it before it was soaked, and on the right it has been soaked.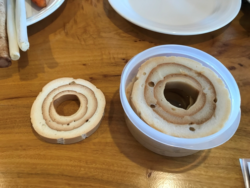 Then the staple food is, of course, the Uonuma Koshihikari rice produced in Tokamachi! The Uonuma Koshihikari is often referred as the best rice in Japan.
Make a rice ball look a little roasted with miso, which is called the "Kensan-yaki" and it's done!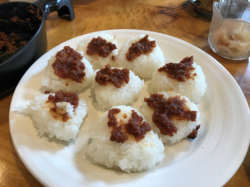 Wow, this is absolutely delicious!!
The origin of the Kensan-yaki seems to be from a legend –the famous local general Kenshin Uesugi grilled a rice ball from the tip of his sword around 500 years ago, therefore giving this rice it's name.
Everyone was very happy to learn and interact with the locals and understand more of their lifestyle and culture. We even had a delicious meal that we worked hard to make, which made it all the more enjoyable.
The recipes we learned were printed out for us to take home so we had no rush to take notes during class which made the experience more relaxed. When you go home, just refer to the print-out and you're guaranteed to reproduce the dishes you cooked in class.