【Ended】 [Monitor Tour] Gourmet Cycling Tour: Enjoy the mountain blessings surrounded by beautiful autumn foliage
2019.09.20
Categories for:

Tour Summary
During this cycling tour in Tokamachi and Snow Country, you can learn the wisdom of the area by getting to experience the harvesting of ingredients and cooking with professional chefs while getting to truly feel the nature of the satoyama* landscape.
(*satoyama= a Japanese term applied to the border zone or area between mountain foothills and arable flat land. Literally, sato (里) means village, and yama (山) means hill or mountain.).
Tokamachi City receives the most snowfall in the world in winter, with upwards of 5 meters on record. A unique food culture has been created here in Snow Country to help inhabitants cope with the brutal winter.
In particular, wild vegetables that have been preserved using traditional methods, and foods that have been preserved using fermentation and brewing, have recently been recognized to be good for your health.
The best brand of rice in Japan, Uonuma Koshihikari, is the specialty crop of this area, is considered such due to the rich and plentiful water it grows in.
Let's taste the mountain blessings of Tokamachi not just with our taste buds, but with our entire being!
Details:
-DAY 1-
Enjoy Tokamachi Vegetables at the Echigo-Matsudai Satoyama Shokudo!
Experience home cooking full of local flavors prepared with tons of fresh vegetables from local farms and wild vegetables grown in the Echigo Tsumari region.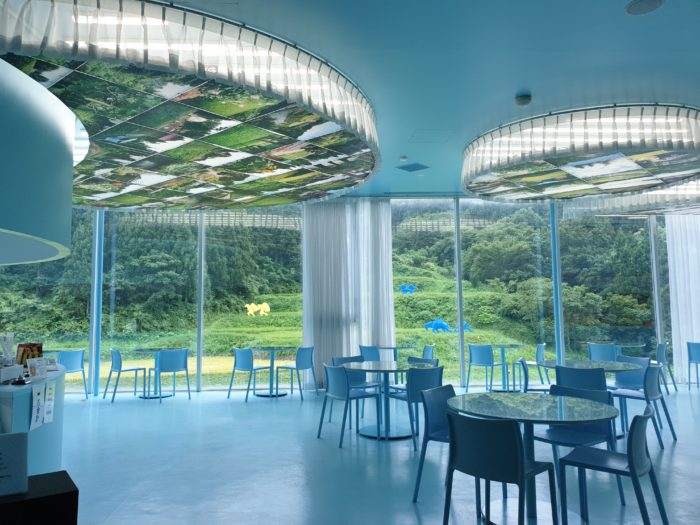 Cycling in the thick of nature!
Ride through the nature that is home to Tokamachi's food. While you appreciate the gorgeous scenery, be at one with nature and collect wild nuts and fruits from the trees of the mountain.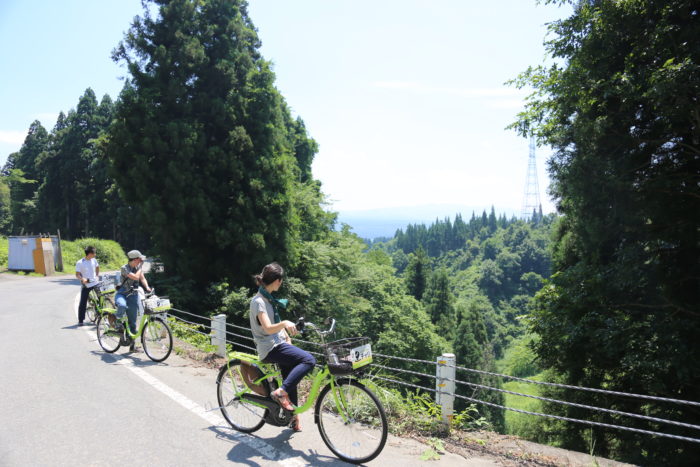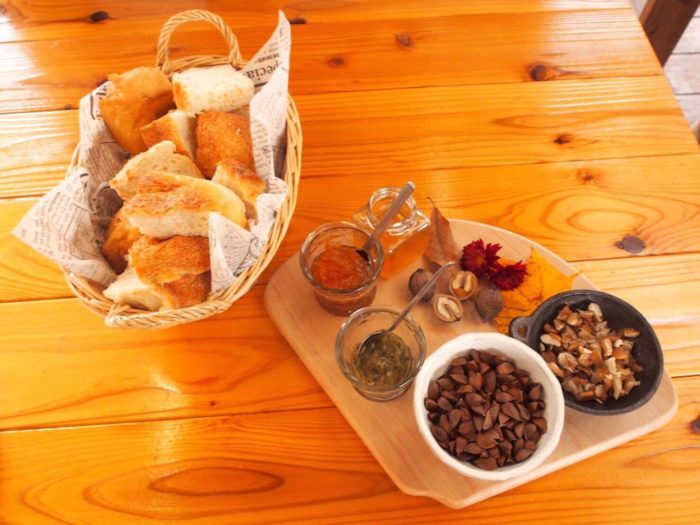 Cook dishes with your harvested vegetables and nuts with a pro!
You will be able to cook dishes with a pro chef from the harvested ingredients. You'll get to try out these flavors together with the chef while discussing local food culture and tastes, and the secrets to cooking delicious food.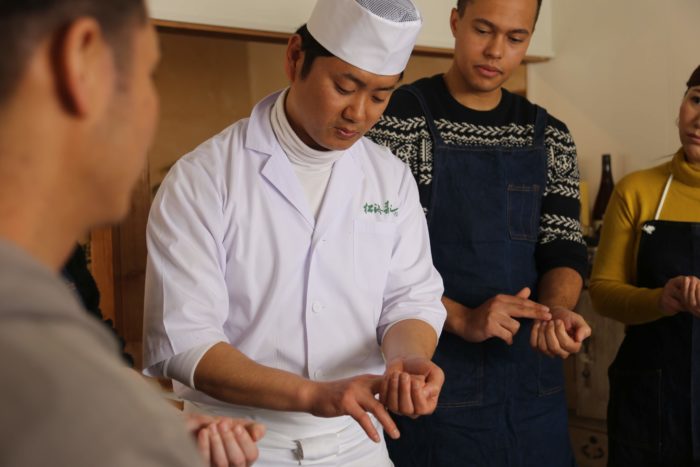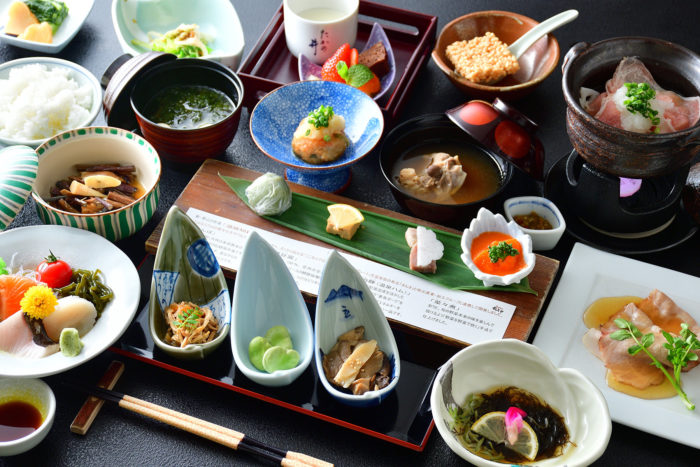 -Accommodation-
Hinanoyado Chitose
This traditional Japanese ryokan inn is located by Matsunoyama Onsen, which is one of Japan's top 3 medicinal hot springs. You can enjoy the open air bath, where the water in this onsen is 15 times more concentrated than normal ones.
The tasty rice, vegetables, and other ingredients in the food served at this inn have been cultivated in melted snow, a native taste distinctive to this Satoyama area.
You can also view the beautiful rice terraces and beech forests from here, which are said by many Japanese residents to be one of their earliest, fondest memories.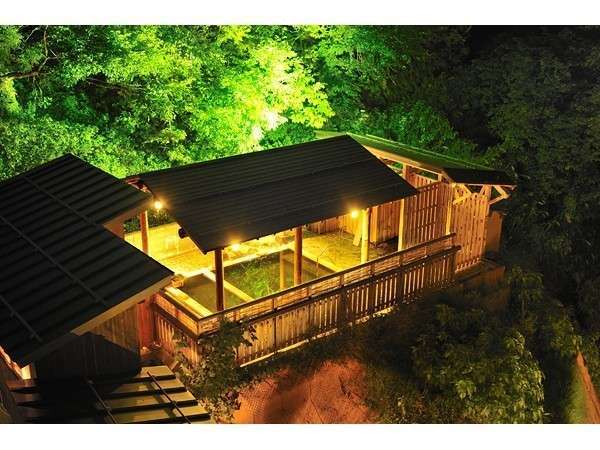 -Day 2-
Field Trip to a Kimono Factory
Tokamachi has been a leading producer of Japan's kimonos for over 800 years. This artistry has been handed down from days past and is a huge influencing factor for the region's food culture, including the birth of specialty food hegisoba.
Aoyagi Kimono Factory especially employs a variety of methods for making kimono, from the weaving, to the dyeing, to the embroidery, to the final gold leaf touches. Let's go observe just how these kimonos are made!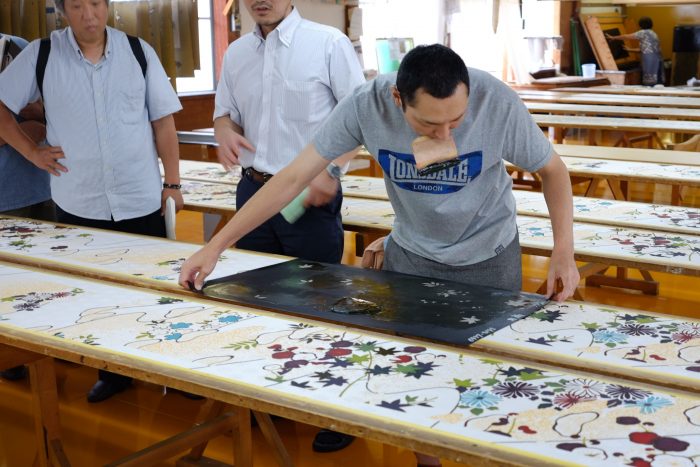 Tokamachi Specialty, Hegisoba Making Experience
When you say Tokamachi soba (buckwheat noodles), everybody here knows you're talking about "hegisoba." The "hegi" part of this refers to the type of wooden tray the soba noodles are plated on. The noodles are interwoven together with funori, a type of seaweed used for the weaving of kimono, that give it an especially unique mouthfeel and texture. Hegisoba was born as a byproduct in Tokamachi's history from the textile industry.
Make these soba noodles with your own hands and taste it for yourself!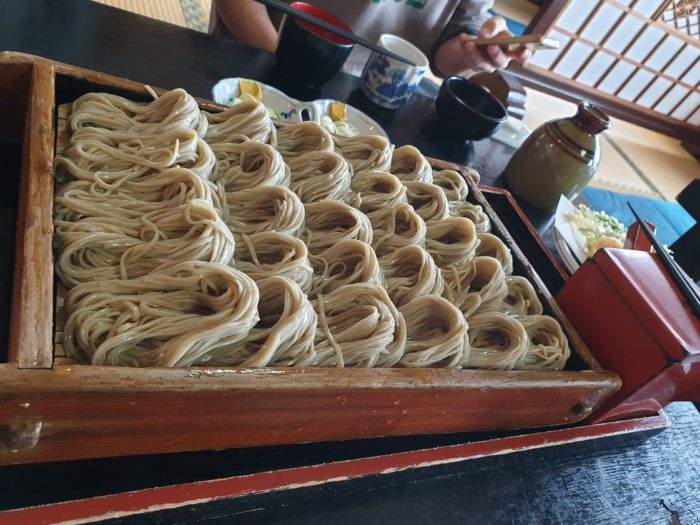 This two-day tour is designed for you to get your fill of Tokamachi foods. You will absolutely have a blast participating in these experiences. But this isn't something that can be explained in words so easily – we invite you to come for yourself and experience the connections that tie people together, the warmth of the locals, and the beauty of the atmosphere here in Tokamachi.
Venue
Tokamachi, Niigata, Japan (Around 2 hours by Shinkansen & local train)
Schedule
DAY 1
(7:48   Depart from Tokyo by JR Burret train*)
9:49    Arrive at Matsudai station
9:50     Gather at Matsudai station
10:30   Cycle around the Matsudai town center
12:00   Lunch: Satoyama Shokudo
13:00   Cyclearound the satoyama mountain area, picking wild nuts and fruits
17:00   Cook dishes with harvested vegetables and nuts with a pro
20:00  Stay at Hinanoyado Chitose
DAY 2
8:00   Breakfast at the accommodation
8:45   Walk around the Matsunoyama hot spring town
10:40 Visit Kimono factory
12:00 Hegisoba Making Experience
14:30 Visit souvenir shop
15:08 Depart from JR Echigo-Yuzawa station
17:28 Arrive at Tokyo station
*Recommended Transportation From Tokyo
-Tokyo to Matsudai, Tokamachi-
JR Joetsu Shinkansen (burret train) 7:48 Tokyo station -> 9:08 Echigo-yuzawa station
<exchange>
Hokuetsu Kyuko Hokuhoku-Line 9:14 Echigo-yuzawa station -> 9:49 Matsudai station
-Echigo-yuzawa to Tokyo-
JR Joetsu Shinkansen (burret train) 15:08 Echigo-yuzawa station -> 16:28 Tokyo station
Accommodation
Ryokan Hinanoyado Chitose
http://english.chitose.tv/
Max number of participants
Each company is limited to 2 participants.
Includes
-Transportation from Tokyo to Tokamachi (round trip for bullet and local train)
-Accommodations in Tokamachi
-Meals during the stay (Breakfast*1; Lunch*2; dinner*1)
-All the experience programs