Learn how to make Sasadango from local masters!
This tour is an experience program to learn how to make "Sasadango" Niigata Prefecture's most beloved traditional food.
"Dango" are traditional sweet rice dumplings while "sasa" refers to broadleaf bamboo leaves. Therefore, "Sasadango" are sweet rice dumplings wrapped in broadleaf bamboo leaves.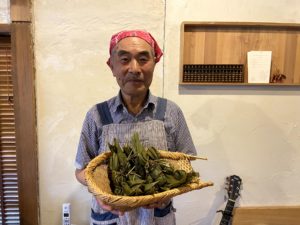 Learn how to make Sasadango from local masters and take the freshly steamed sweets you made! No doubt, adults and kids alike will enjoy this experience.
What is "Sasadango"?
Sasadango – rice dumplings with sweet bean paste and wrapped in fragrant bamboo leaves, are said to have been developed in the Sengoku period (15-16th centuries) as a preserved food and thought to have been invented by the famous Echigo (Niigata) warlord, Kenshin Uesugi. These dumplings are wrapped in bamboo leaves as it has excellent antibacterial properties.
At that time, it seems that simmered bean paste which was a daily staple, has been used instead of the sweet bean paste as it is now.
Sasadango has been popular for a long time but now there are only a few people who make it and eating homemade Sasadango fresh out of the steam pan is a very valuable experience.
Taste the freshly steamed Sasadango you made!
In this tour, local masters will teach you how to make Sasadango from how to knead the dumplings, to wrapping in the red bean paste beautifully and finally, wrapping the dumplings with bamboo leaves and tying with a string called "igusa". It's truly a wonderful experience children and adults can enjoy.
This homemade steamed Sasadango will have a slightly different taste than the ones brought at the store!
Sasadango can be kept for a short period of time due to the antibacterial property of the bamboo grass, making them ideal as items to bring home after a trip to Niigata Prefecture.
So, how about joining a homemade Sasadango making class while here to enjoy this traditional local sweet?